Introduction:
Last summer, it was mid-August, I applied for the Falling Walls Lab in Berlin. My so-called pitch had to be short. Nearly, as short as a tweet: The transformation of the status quo of employment through social inclusion and financial dignity.
Around two months later, I got accepted. So, what is Falling Walls Lab?
The Falling Walls Lab is a challenging, inspiring and interdisciplinary format for young bright minds. It offers the opportunity to excellent young academics and professionals to present their outstanding ideas, research projects and initiatives. The Lab is part of the Falling Lab, an International Platform on Future Breakthroughs in Science and Society, initiated on the occasion of the 20th anniversary of the fall of the Berlin wall and inspired by this world-changing event on 9 November 1989. The question of every Falling Walls gathering is: Which walls will fall next? Each participant is asked to present his/her work in 3 minutes (2:30 presenting, 0:30 answering questions, maximum 2 content slides).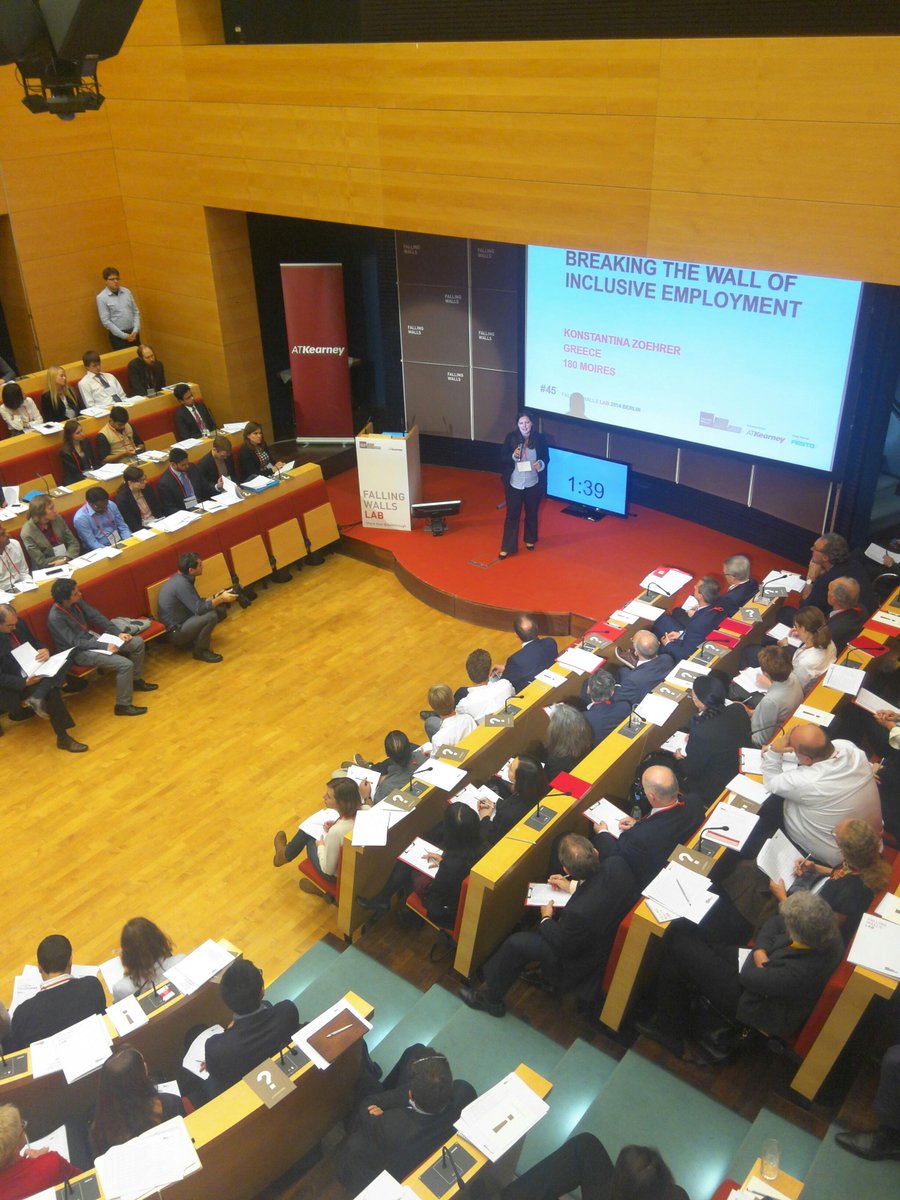 If you want to read what I talked about (I was that anxious that I forgot my slides)
     *****     *****     *****     *****     *****
Breaking the Wall of Inclusive Employment – Falling Walls Lab Berlin 2014
As you already have seen, I come from Greece, a country intensively discussed for its issues with employment. Issues that are constantly on the policy and reform agenda of many, if not all countries. According to the International Labor Organisation, labor force participation rate, is around 65% globally.
BUT we count 200 million unemployed and economically inactive. Vulnerable employment has expanded, to 48% of total employment. And it is also in the Developed Economies that we see an increase of these numbers. Especially in countries with weak social security systems, suffering from decrease of formal labor, we see an increase of informal labor.
Informal employment… still around 20-30 %, globally…Advanced economies included. A gap between economic changes and changes in the labor market…Nothing new actually.
There could be a solution: A social policy experimentation framework- aiming at employment and re-employment of economically excluded groups. Lets say housewives – female labor participation is only around 50%- and mature groups aged  50+, informal workers.
For example: Take Maria, a housewife, aged 53. Her husband was a long-time freelancer and no longer earns enough in order to sustain his family. They have two children, one in high-school another one at University. Although she has never been employed in her life, she has people caring skills and time management skills. Through an Inclusive Employment Framework, complementary to the national employment strategy, she would be offered:
A Capacity building scheme for the specific groups, re-focusing her already strong skills to the social sector. That would not only include the state, but mainly social economy organisations etc.
Working with those organisations, on their development and sustainability opportunities
Let's consider that the immediate costs of social security are higher, when unemployment levels are high. Given the budgetary constraints state and public organisations face a result is underfunded social protection, the Inclusive Employment Framework would therefore:
Develop a support system in order to match organisations needs and the workforce offered.
Co-creating a cost-efficient and human-centred approach.
And at a more advanced stage matching social organisations with traditional businesses, transforming conventional Corporate Social Responsibility into Social Impact Investment.
Through these steps, a social policy intervention would break the walls of inclusive employment., financial dignity, and transform informal labor into employment. The above is part of 180 Moires' Model for Inclusive Employment, targeting economically inactive groups.   Special "Thank You" to Tonia Eliascou, Nasos Kouroupis, Ian Choo, Rainer & Susane & Leni Scheerer.
Well, and for those who want to see the video, here you go 🙂
Konstantina Zoehrer – Breaking the Wall of Inclusive Employment @Falling Walls Lab 2014 from Falling Walls on Vimeo.